Olaco Inc. – Heavy Equipment Hauling in
Western Canada - Join our team
Olaco Inc. specializes in heavy equipment hauling for Alberta, British Columbia, and Saskatchewan.  We serve the oilfield, farming sector, and many other industries throughout western Canada.  Our fleet includes a winch tractor and scissor neck and highway tractors.
Customer satisfaction is the top priority at Olaco Inc.  Our vehicles are designed for flexibility to accommodate any type of load, including oversize and wide loads.  We take pride in working with our customers to meet their trucking needs.  We also provide hot shot services for both small and large loads.
Olaco Inc. is also a safety first trucking company.  We take very seriously our responsibility to keep our employees safe and operate our equipment safely both on and off the road.  The best way to keep our customers happy and their loads safe is put safety first in all we do.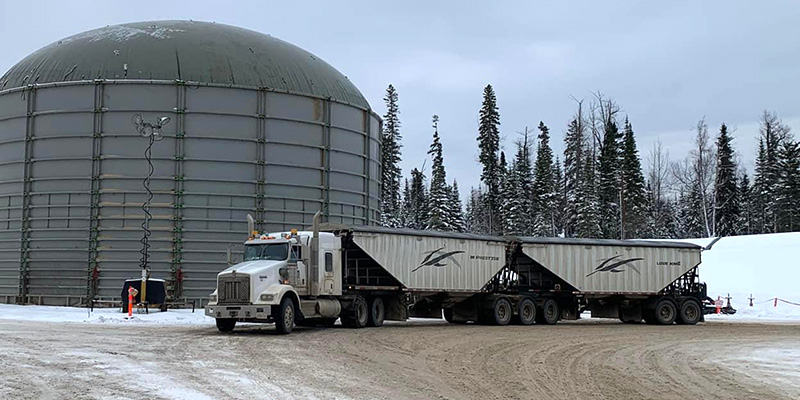 Olaco is hiring Class 1 Lease Operators with 5 years of experience who can start immediately.
Sign-In Bonus offered.
Position has long term opportunity for the right candidates.
Must have Off Road experience.
Over-Dimensional experience would be an asset.
Position will include pulling Super-B for Frac sand projects; MUST be able to back-up Super B combination.
Vehicle will be subject to mechanical inspection by Olaco prior to hiring.
Requirements include:
Valid Class 1 driver's license with commercial driver's Abstract 5 years minimum.
Truck must be equipped with 4-way lockers.
Employer is willing to assist with fuel cards and plate and insurance.
Valid H2S Alive and Standard First Aid with CPR C/AED.
Must pass Pre-employment drug and alcohol testing.
Willing to work away from home for extended periods of time.
Candidates from Lloydminster area with the most experience will be given priority.
If you are a motivated individual who is eager to join our team, please submit required information via email. Candidates with required information will be contacted right away.
We ask that you email resume with copies of Driver's Abstract, safety tickets, and 2 work references when applying.
Email: [email protected]
PO Box 30029
Lloydminster
Alberta T9V 3L6
Or fill out the form below.
Not sure which transport solution fits your needs?